MoU signed between ATF & IIT Madras Research Park - A foundation for transforming Assistive Technology in India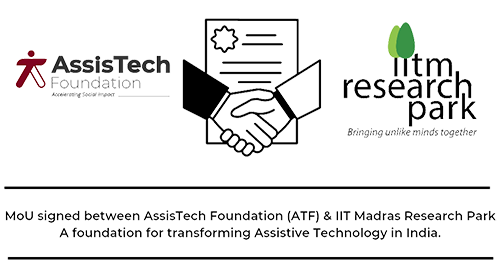 With immense joy, we are delighted to inform that AssisTech Foundation (ATF) has signed a Memorandum of Understanding (MoU) with IIT Madras Research Park (IITMRP) to collaborate with each other to support development of technologies/products in the area of Assistive Technologies ("AT") to enable people with disability towards learning, livelihood and living.
The MoU was signed by Mr. Prateek Madhav (CEO & Co-Founder, ATF), Mr. Ravi Narayan (Co-founder & Member of Board, ATF) and IIT Madras Research Park team.
IIT Madras Research Park, led by a visionary leader and Padma Shri Awardee Prof. Ashok Jhunjhunwala, is a University-based Research Park, promoted by Indian Institute of Technology, Madras that thrives on innovation and entrepreneurship through industry-academia interaction and deep-tech start-ups. It is also home to the deep-tech startup incubator – IITM Incubation Cell.
With this collaboration, we aim to transform the scope of Assistive Technology in the country. Vigorous efforts will be laid to incorporate Assistive Technology modules into classroom learning, establishment of dedicated labs for innovations in Assistive Technology, enabling innovation through organising hackathons and similar competitions to encourage young innovators to involve in development of Assistive Technology, scaling reach of Assistive Technology to its diverse beneficiaries, formation of R&D units to transform Assistive Technology and enable various stakeholders including startups, educational institutions, Govt., corporations and investors to collaborate and lead towards the flourishing future of Assistive Technology in India.
We are really excited to collectively pave a pathway towards the betterment of Assistive Technology in India.
Educational Institutions
Welingkar Institute of Management
NGO's
Divyaang Myithri Foundation
Govt Institutions
GoK Disability Department
+N Inclusive Innovation Network (Global Alliance)
Access to Success, Canada
Disability Impact Fund, Hong Kong